Why I'm Okay with my Daughter Dating a Pop Star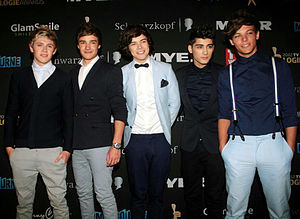 When I was growing up, my older sister loved celebrities and pop stars. On her wish list was always the latest album and poster, while my only desire was for art supplies and books. I wasn't the least bit interested in famous people, except for Laura Ingalls Wilder and Abraham Lincoln!
My first real experience with the pop star craze was with my own daughter and the Jonas Brothers. The music and movies they made were fun and uplifting, so I joined in with her to listen and watch. She moved on to Justin Bieber and had so much fun with her friends as they imagined he was their "boyfriend." One of her friends even had a life-size cutout of the Biebs in her bedroom, and this was after she had already started high school and had a "real" boyfriend!
I recently took my daughter and her friends to a Justin Bieber concert, and we all had a great time. Next to us was a much younger girl, somewhere between eight and ten. When Justin appeared on stage, she began to cry. It would be hard to describe the look on her face. She was completely overcome with emotion. I couldn't help but wonder if this wasn't unhealthy. As I contemplated the phenomenon surrounding me, I decided that although it was definitely silly, it probably wouldn't have a long-term detrimental effect. Someday, the little girl next to me would be a woman who would look back and laugh at how she felt about the Biebs!
My sister, who was so enamored with pop stars, went on to happily marry a real boy. She's a strong woman, with no lasting ill-effects from her long ago fascination with famous guys.
My daughter is smart and level-headed. She may be the only one of her friends who hasn't had a real boyfriend yet, but I'm more than okay with that. She has plenty of time.
Justin has now moved into second place because of the British boy band One Direction. My daughter is "crazy" over Harry Styles, and I have to say, he and the Biebs have both been very good boyfriends! They've never kept her away from having fun with her friends, or her homework. They've never gotten her home past curfew, or pressured her into doing something she's not ready for.
They make her smile, not cry.
And they've never broken her heart! <3