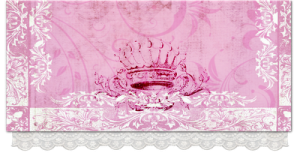 There's a hash tag on Twitter, #princessprob, used to convey a complaint that the sender knows is really a "luxury problem."
For example:
"I went to Macy's to get my favorite Chanel lipstick and it was out of stock, forcing me to go all the way to Bloomingdales.  #princessprob"
Some of them are funny, and they're usually tongue-in-cheek, but it got me thinking. Aren't most of our problems, "princess problems?"
First of all, I have a problem with the use of the word "princess" in this context, because it means something else entirely to me than it does most people. If you read my blog, you know I am not anti-princess, because a real princess to me has nothing to do with being wealthy, spoiled, or privileged. To be a princess in my book means to show character, charity, and grace, no matter what your circumstances, but that's another post. The point of a "#princessprob" is that it's not a "real" problem after all, and I believe we should view most of our problems in that light.
Girlfriends often use each other to bounce off minor complaints. I know I do it to my friends, and usually listening to their complaints doesn't bother me, but there are times when it becomes clear to me that our perspective is completely askew. I am renewing my goal to live with a spirit of gratitude, and see "problems" as they really are.
A friend of mine recently sat for an hour in a doctor's waiting room with her son, who needed an MRI because he had over used his shoulder playing sports. Although my friend was patient, her son was complaining. When they were eventually called back, a young man was wheeled out at the same time—the reason for the delay. He was severely disabled and had never played a game of sports in his life.  The minor inconvenience of waiting a little extra time for the doctor hit home. We can choose to look through a lens of entitlement, or one of gratitude.
It's not about comparing ourselves to someone with a "worse" problem; it's about being grateful for what we have. It's about counting our blessings and not our sorrows. My greatest anguish is that my son was born with a heart defect. He had surgery as a tiny infant, but still has an abnormal valve and an irregular aorta. Every year when I take him to his cardiologist, I am sad for a few days, because I face the reality that he will always be at risk. But he is alive, has no restrictions, and has the best medical treatment in the world available to him. I need to be grateful.
It may seem harmless when we complain about our "first world" problems (like car trouble when 89% of people in the world don't even have a car to fix), but I don't believe it is. In order to truly be happy, I am convinced we need to catch ourselves complaining and put the brakes on. No one is promised a trouble-free life. It's about focusing on the good in our lives, and doing something to relieve the suffering of others. Gratitude equals joy, and a sense of entitlement leads to discontent.