Author Spotlight: Dorian Cirrone
Today I'm interviewing author Dorian Cirrone about her new middle grade novel, The Last First Day,  (Simon & Schuster/Aladdin June 2016).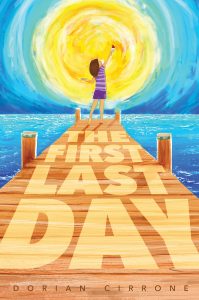 Here's part of the book description from Dorian's website:
"What if you could get a do-over—a chance to relive a day in your life over and over again until you got it right? Would you?
After finding a mysterious set of paints in her backpack, twelve-year-old Haleigh Adams paints a picture of her last day at the New Jersey shore. When she wakes up the next morning, Haleigh finds that her wish for an endless summer with her new friend Kevin has come true. At first, she's thrilled, but Haleigh soon learns that staying in one place—and time—comes with a price."
First of all, I really loved this book! If you've ever wished you could go back in time–or even just stop it, you'll relate to the dilemma facing the main character, Haleigh. Here's what I asked Dorian:
Kristina:  Kevin is such an adorable character. I can see why Haleigh would want to spend so much time with him! Did you have a real life inspiration when you created his quirky personality?
Dorian: Thanks! I'm glad you liked him : ) While he isn't exactly like my daughter's close friend, Brett, Kevin has a lot of Brett's characteristics. During carpool rides, Brett would often share his quirky thoughts. One of them even made it into the book on page eight when Kevin asks: "If you hung on a rope from a helicopter and hovered for about twelve hours while the Earth revolved, could you end up landing in a different country?" I remembered Brett asking that from the backseat years ago and thought it was a really creative question, which fit Kevin's personality. It was also perfect foreshadowing for the time travel element of the novel. In addition, Brett used to wear a cow costume at random times just for the fun of it—even in high school. Not surprisingly, Brett is now in Los Angeles working as a producer of comedy shows.
Kristina:  I really enjoyed the insights about life that you beautifully weaved into the narrative, and I don't want to spoil that experience for the reader by revealing too much, but was there a life experience or catalyst that inspired the theme of the book?
Dorian: It was definitely inspired by my children growing up. I got the idea one summer night when my son was in high school and my daughter was entering her senior year of college. They were both in bed, and I secretly wished that they could be safely tucked away there forever. I thought, perhaps, kids might have the same thought about freezing time on a particularly wonderful day. After some thinking about it more, I decided to use the Groundhog Day trope of having my character be stuck in a time loop. Later, as I revised, various other things happened in my life that influenced the book. During that time, I lost four family members, all women. (The book is dedicated to them.) As a result, the concept of art and memory intertwining to honor those we've loved and lost was something I was thinking about a lot. I included a leitmotif about fossils to underscore the relationship between art and memory. In the book, as Haleigh honors the memory of others through sketching and painting, she learns how nature also leaves artistic remnants of what came before us in fossils.
Kristina:  What is your writing process like?
Dorian: This is an interesting question because my process has changed over the years. I used to focus more on plot and set-up ahead of time. But now, before I sit down to write a novel, I do a tremendous amount of character work regarding backstory, desires, motivations, etc. I like to know how my characters are going to transform before I start writing. I also like to write out an elevator pitch and flap copy ahead of time so that I know the idea is feasible.
Kristina:  Do you ever get writer's block?
Dorian: I've had writer's block in the past, and I think it's because I hadn't done that deep character work right from the beginning. I've also had bouts of it when I'm awaiting word from an editor on a project. That type of anxiety never goes away. Or at least it hasn't for me.
Kristina:  What are you working on now?
Dorian: I've recently finished one young adult novel, which uses Shakespeare's Othello as an intertext.  And I have several characters and ideas I've been developing. But I keep going back and forth regarding which book I want to continue with. I'm hoping for a sign of some sort to help me choose. : )
Huge thanks to Dorian! Can't wait to read her next book!